Heater Replacement in Southern Indiana
Help with a Heater Replacement in Southern Indiana from a business with over 60 years of experience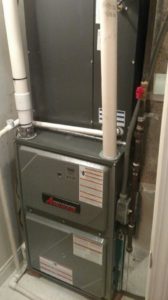 There comes a time when every heater reaches the end of its life, whether it's because of repairs too expensive to justify or because it's outdated compared to the higher efficiency models on the market today, heater replacement in Southern Indiana is easier with Frank H. Monroe Heating – Cooling Inc.
We make sure you get what you need and we help you understand your equipment better than any other local contractor. You'll get an investment that truly performs to meet your needs and never have to worry about another breakdown.
Wait, Should You Replace that Heater?
The moment you call a contractor and say the word replacement, they'll jump to the sale and see how large of a unit they can get you to buy. Sometimes a heater doesn't need to be replaced yet and can still be salvaged with a repair. We'll investigate the issue with your old heater and help you do the math to see what is truly the right option for your situation. You shouldn't have to wonder if the person "helping you" is really just taking your money and running. We bring honesty and integrity to every home and will give you our opinion on the best way to invest in your home.
Installations that Respect Your Home
On the day of your heater replacement in Southern Indiana our technicians will arrive on time and ready to carefully remove your old heater. The new one will bring you an upgrade in comfort and we'll make the process smooth and easy for you, cleaning and caring for your home throughout the process. Our certified technicians are thorough and use a checklist to get every part of the job done right. We make sure your heater performs to the manufacturer's specifications and delivers the AFUE rating you're expecting. While other contractors install a new heater in the same spot, we check to make sure your heater is placed in the best location for high airflow and even heating around the home.
Make Comfort a Priority Again
Getting a new heater brings reliability back when you've experienced frequent breakdowns and repairs with an old system. It also means lower energy bills and higher fan output, getting warmth and comfort at the touch of a button without having to worry so much about the monthly utility bill. If your old furnace isn't performing like it used to, call Frank H. Monroe Heating – Cooling Inc. to see if a new replacement is the right option. If it is, we can help you with the rest of the details, so dial 812-945-2566 for a free estimate today.
Contact Us today for heater replacement in Southern Indiana!